THE BIG FIVE, RIVER CRUISING & THE CAPE
In South Africa, track the Big Five – lion, leopard, rhinoceros, elephant, and Cape buffalo – at private game and nature reserves and discover the charms of Cape Town and Johannesburg. In Zimbabwe, explore the mighty Victoria Falls and the alluring Zambezi River. In Botswana & Namibia, embark on a luxury Chobe River cruise.
Track Africa's Big Five at stays in four private wildlife and game reserves
Visit mighty Victoria Falls – one of the seven Natural Wonders of the World
Chobe River 3-night water safari aboard a luxury riverboat, the Zambezi Queen
Ride Bushtracks Express dinner train and cruise Zambezi River on a luxury tour
Authentic cultural experiences – festive singing, dancing, drumming, cuisine
Enjoy penguins, sculptures, gardens, beaches, cities, wine tastings, and picnics!
Included land highlights:
Dylan Lewis Sculpture Garden
Boschendal Rhone Rose Garden Picnic
Cellar Door Wine Tasting at Boschendal
Chapman's Peak
Boulder Beach African Penguins
Table Mountain Aerial Cableway
Cape Town City Tour
Gold Restaurant Experience
Harold Porter Botanical Gardens
Stony Point Nature Reserve
Garden Route
Plettenberg Bay
Featherbed Nature Reserve
Knysna Lagoon
Shamwari Private Game Reserve
Africa's Big Five Wildlife Game Drive
Big Cat Rescue
Shamwari Wildlife Rehabilitation Centre
Oceana Beach & Wildlife Reserve
Oceana Beach Game Drive
Kariega River Boat Ride
Kowie River Sunset Cruise
Zambezi Grande River Cruise
Jungle Junction Dinner Experience
Victoria Falls Walking Tour
Bushtracks Express Train & Dinner
3 Night Zambezi Queen River Cruise
Chobe Water-Based Safari
Zambezi Queen Optional Activities – Fishing, Birding, Wildlife Safari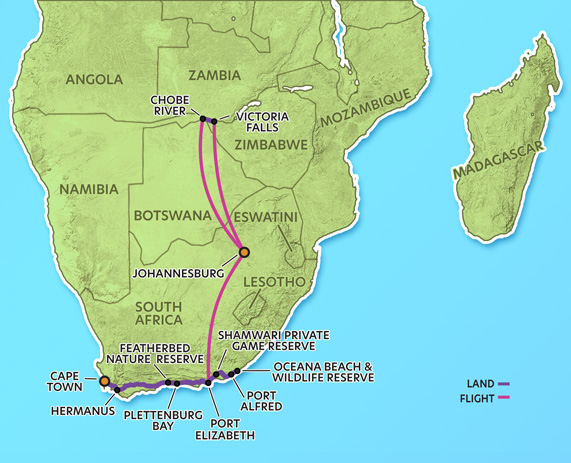 Accommodations:
SOUTH AFRICA
2 Nights – Cape Grace Hotel, Cape Town
2 Nights – Grace Hotel, Cape Town
1 Night – The Marine, Hermanus
2 Nights – The Plettenberg Hotel, Plettenberg Bay
3 Nights – Long Lee Manor, Shamwari Private Game Reserve
4 Nights – Oceana Beach & Wildlife Reserve, Port Alfred
1 Night – InterContinental, Johannesburg
1 Night – Fairlawns Boutique Hotel & Spa, Johannesburg
ZIMBABWE
2 Nights – Victoria Falls Hotel, Victoria Falls
BOTSWANA & NAMIBIA (CHOBE RIVER CRUISING)
3 Nights – Zambezi Queen By Mantis, Chobe River Cruising
Active Rating:
EASY TO MODERATE
Requires ability to walk an easy mile and sometimes on uneven pavement. This tour is not recommended for mobility devices such as a wheelchair, scooter, or walker.
Included Meals:
62
Breakfast, lunch, and dinner on full tour days + arrival day dinner, departure day breakfast
Itinerary
Day 1
CAPE TOWN, SOUTH AFRICA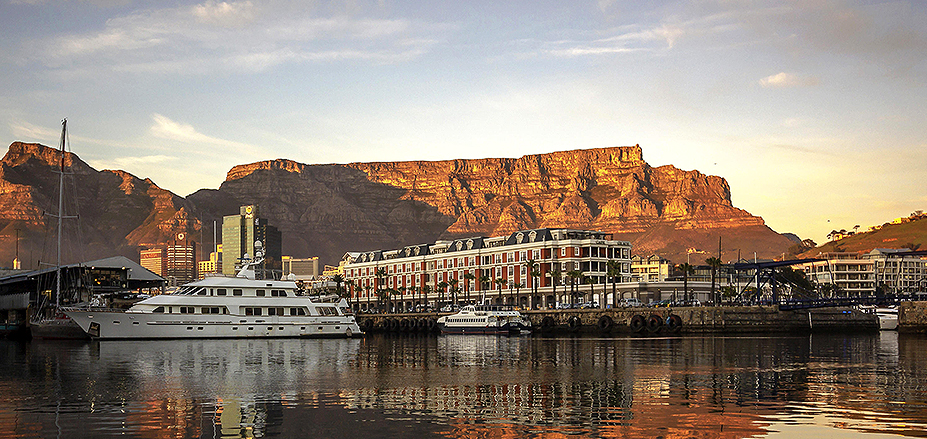 Upon arrival at Cape Town International Airport, you will be met by your John Hall's Alaska representative and will be transferred to your hotel, situated in the heart of the V&A Waterfront. The rest of your day is free for exploring the sights around your hotel. Join your group for a private welcome dinner at your hotel, Cape Grace, this evening.
Dinner | Overnight: Cape Grace Hotel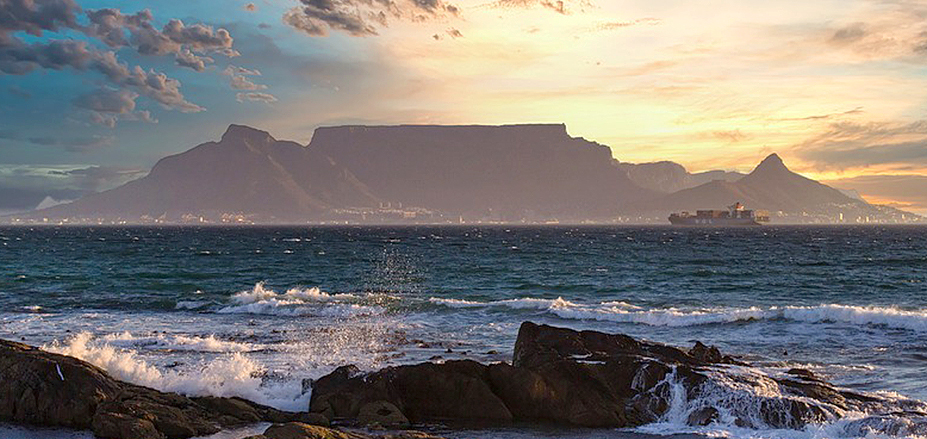 After a welcome breakfast, begin your day with a visit to the Dylan Lewis Sculpture Garden. Bordered by the manicured suburbs of Stellenbosch and rugged mountainous terrain, Dylan Lewis Sculpture Garden is a fantastic indigenous garden that is home to more than 60 works by the famed artist, Dylan Lewis. Explore the Jungian notion of 'the wilderness within' as you meander along a 2.5-mile path dotted with carefully placed sculptures that showcase the development of Lewis' artistic skills thus far. Lunch is a gourmet picnic at the Boschendal Rhone Rose Garden surrounded by spectacular mountain views. Boschendal is one of the oldest farms in South Africa (founded in 1685), and is also a working farm that produces a wide range of fruits, vegetables, eggs, and meat products. Enjoy an afternoon wine tasting and cellar tour before returning to your hotel to freshen up and enjoy dinner on the V&A Waterfront.
Breakfast, Lunch, Dinner | Overnight: Cape Grace Hotel
Day 3
CAPE POINT & CHAPMAN'S PEAK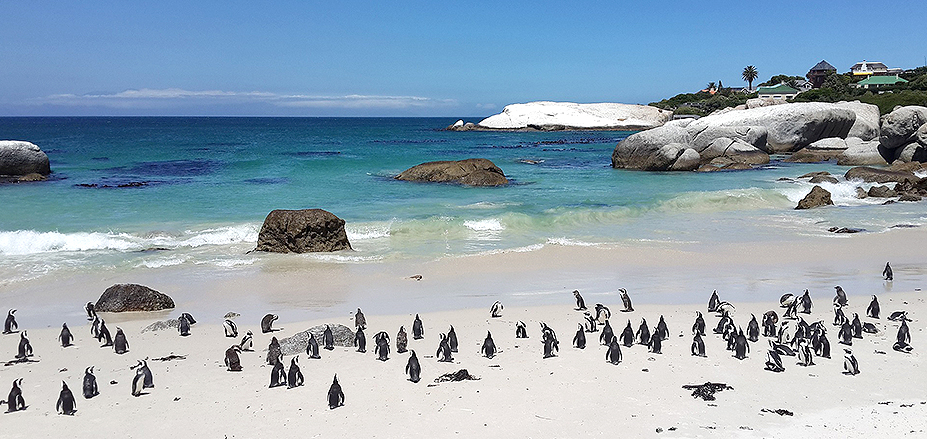 Following breakfast, take a scenic drive along the Atlantic Seaboard, exploring Chapman's Peak vistas. Spend the morning at Cape Point – a spectacular sight, covered in endemic fynbos and home to breathtaking bays, beaches, and rolling green hills and valleys. Cape Point falls within the Cape Floral Region, a World Heritage Site, and is home to nearly 20% of Africa's flora. Lunch will be at Boulder Beach. Have an al fresco picnic while viewing a protected colony of African penguins. Witness scenic views as you return to Cape Town for dinner this evening.
Breakfast, Lunch, Dinner | Overnight: Grace Hotel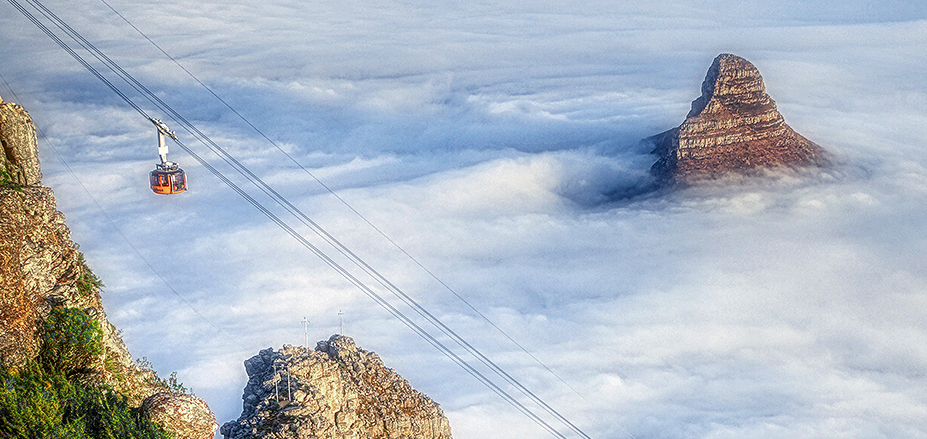 Get ready to explore the highlights of Cape Town by first viewing the city from above! Ascend Table Mountain via the Table Mountain Aerial Cableway. At the top, you can follow flat paths to various lookout points on Table Mountain including views across Table Bay to Robben Island. Lunch will be in town, then take a guided walk highlighting Cape Town's museums, squares, and street markets. Tonight, your group will dine at Gold Restaurant, a sophisticated eatery featuring vibrant pan-African cuisine. The menu will include a 14-dish tasting menu inspired by ingredients and textures from all over the African continent. Be seduced by live dancing and singing to the rhythmic beating of African djembe drums.
Breakfast, Lunch, Dinner | Overnight: Grace Hotel
Day 5
HERMANUS & STONY POINT NATURE RESERVE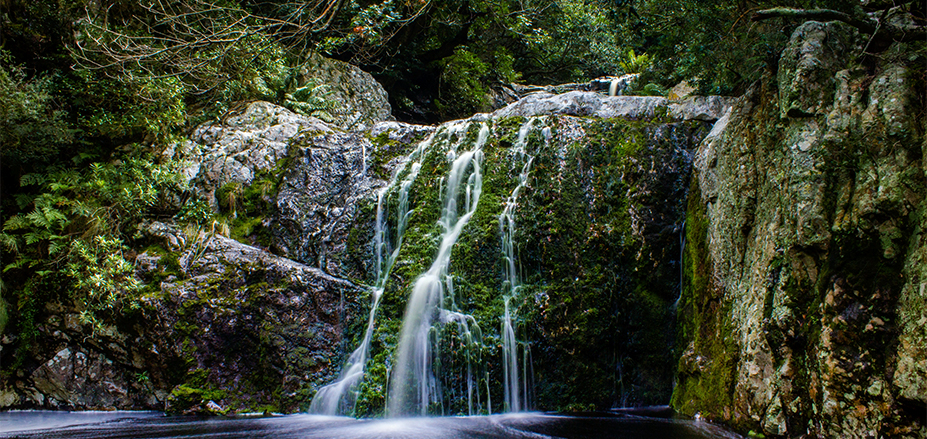 Bid farewell to Cape Town as you make your way to the coastal town of Hermanus. Upon arrival you will spend time at the secluded Harold Porter Botanical Gardens, renowned for its waterfalls and amber pools. A short drive away is Stony Point Nature Reserve. Located in the quaint coastal town of Betty's Bay, this reserve is home to the Stony Point Penguin Colony, one of the largest successful breeding colonies of African Penguin in the world. Observe these funny birds and enjoy lunch overlooking the sea. Check in to your hotel, the Marine to relax and freshen up before dinner at your hotel.
Breakfast, Lunch, Dinner | Overnight: The Marine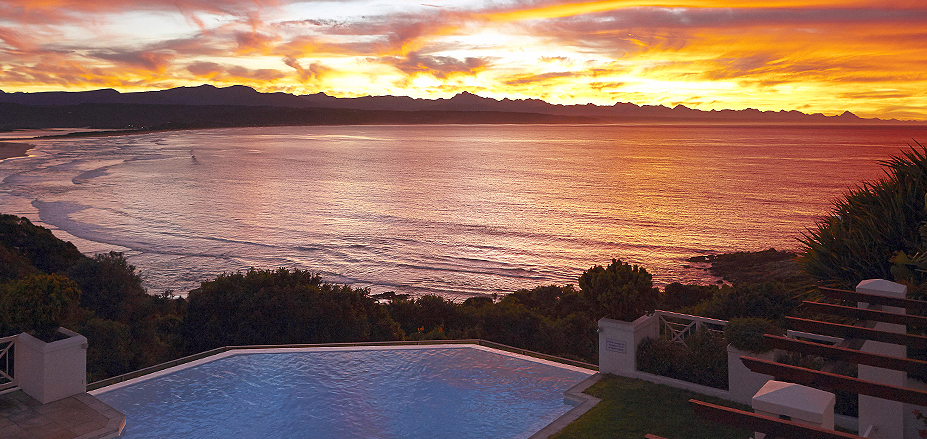 Depart Hermanus following the scenic Garden Route today bound for Plettenberg Bay. Lunch will be enjoyed along the way. Plettenberg Bay boasts a year-round temperate climate and pristine beaches, making it the ultimate South African seaside escape. Your hotel, The Plettenberg, is a 5-star luxury hotel and an ideal base for exploring the great outdoors. Your afternoon is at your leisure with dinner at the hotel.
Breakfast, Lunch, Dinner | Overnight: The Plettenberg Hotel
Day 7
FEATHERBED NATURE RESERVE & KNYSNA LAGOON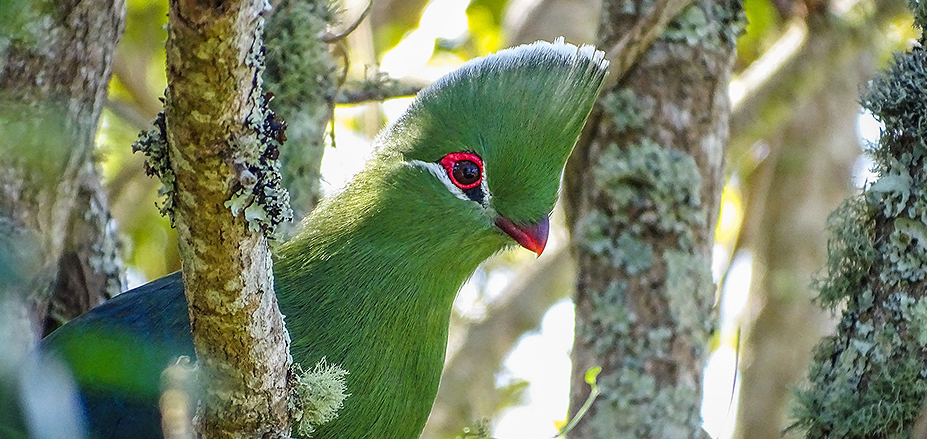 Spend a full day exploring the magical Garden Route, with a morning spent in Featherbed Nature Reserve, a South African Heritage Site. A pristine piece of paradise, travel by ferry to the reserve, riding in a 4×4 vehicle with a trailer up the headland onto the Reserve, stopping at spectacular viewpoints. A guide will escort your group giving information on the history, fauna & flora of the region. There is an optional guided 2.2km walk through coastal forest and fynbos into ancient sea caves. While here you'll experience a world-renowned lunch in an outdoor restaurant setting under a canopy of Milkwood trees. This afternoon you can stroll and explore the Knysna Lagoon waterfront at your leisure before returning to The Plettenburg hotel to freshen up and partake in dinner at a local restaurant.
Breakfast, Lunch, Dinner | Overnight: The Plettenberg Hotel
Day 8
SHAMWARI PRIVATE GAME RESERVE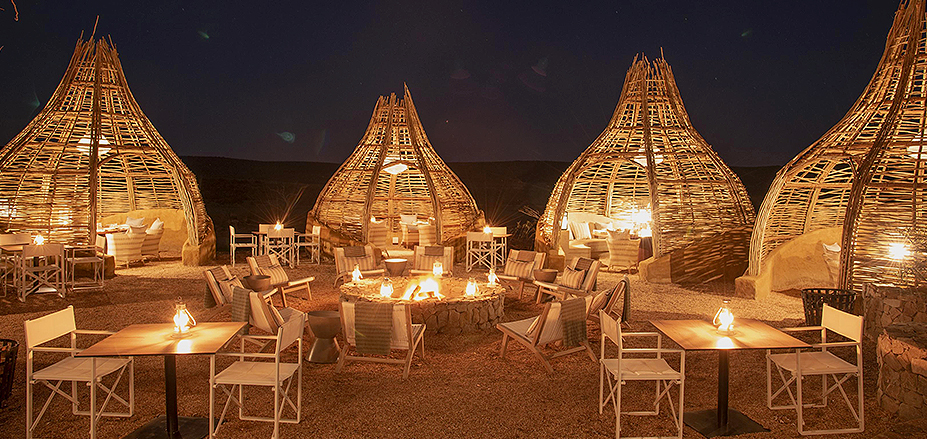 Depart for Shamwari Game Reserve and get ready to marvel at Africa's "big five" wildlife! As the pinnacle of private game reserves, you will find Shamwari (meaning "my friend" in Shona) Private Game Reserve in Eastern Cape, South Africa. It's a place where guests can exist in harmony with nature and wildlife roam the landscape under the relentless African sun. Enjoy lunch and dinner at your leisure while you explore your plush surroundings.
Breakfast, Lunch, Dinner | Overnight: Long Lee Manor
Day 9
SHAMWARI PRIVATE GAME RESERVE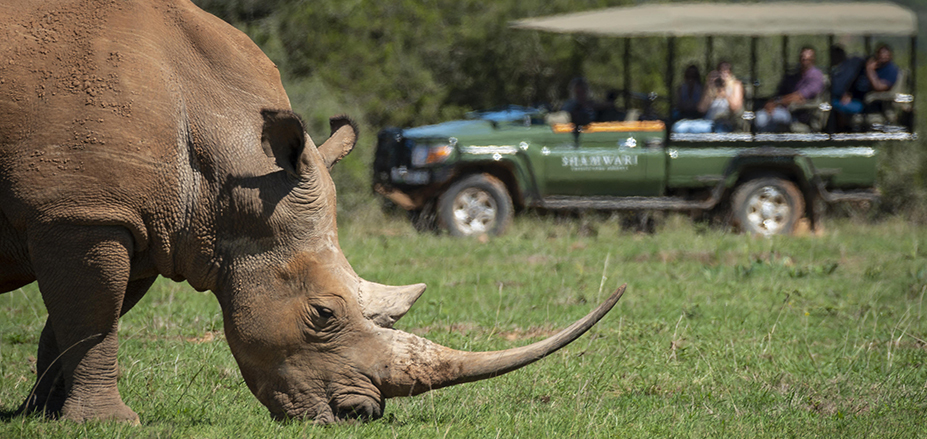 There is much to experience over the next two days and before getting started, you will be briefed on all the possibilities! Among the most anticipated activities are game viewing drives – a chance to survey the areas, witness the birds of prey, or spot one of the "big five" from the comfort and safety of an open vehicle. Accompanied by professional rangers and guides who share their passion for wildlife and knowledge in their respective fields of expertise, game viewing drives are available during mornings and afternoons when the animals are most active. Be sure to have your camera and binoculars handy! Activities listed for today and tomorrow can be experienced on either day. 
Breakfast, Lunch, Dinner | Overnight: Long Lee Manor
Day 10
SHAMWARI PRIVATE GAME RESERVE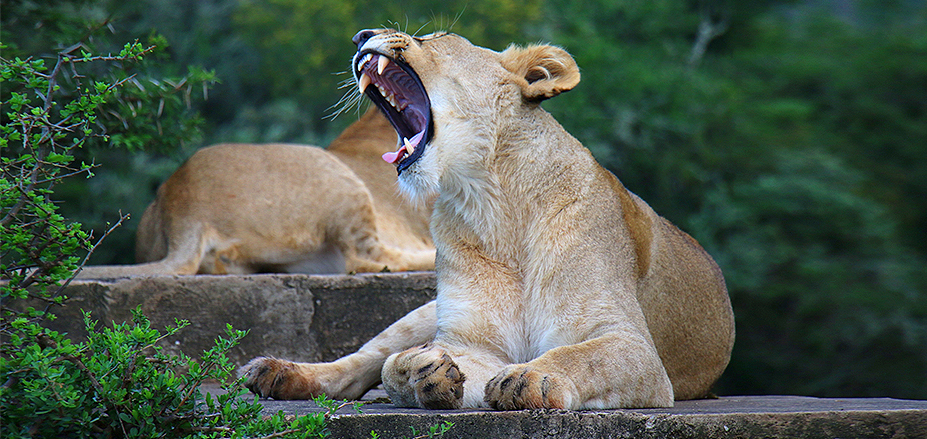 Renowned for its commitment to preserving the region's flora and fauna, at the reserve's Big Cat Rescue and Education Centre, learn about the plight of wild cats throughout the world. Another wonderful place to visit is the Shamwari Wildlife Rehabilitation Centre, which helps to rescue, rehabilitate, and care for sick, injured, abandoned, or orphaned animals. The Eastern Cape is also home to a host of beautiful birds – from tiny feathered friends to majestic birds of prey. The array of bird life is a sure treat for ornithologists and birdwatchers. Expect to take away new insights, an appreciation for Africa, and unforgettable experiences from these two days!
Breakfast, Lunch, Dinner | Overnight: Long Lee Manor
Day 11
OCEANA BEACH & WILDLIFE RESERVE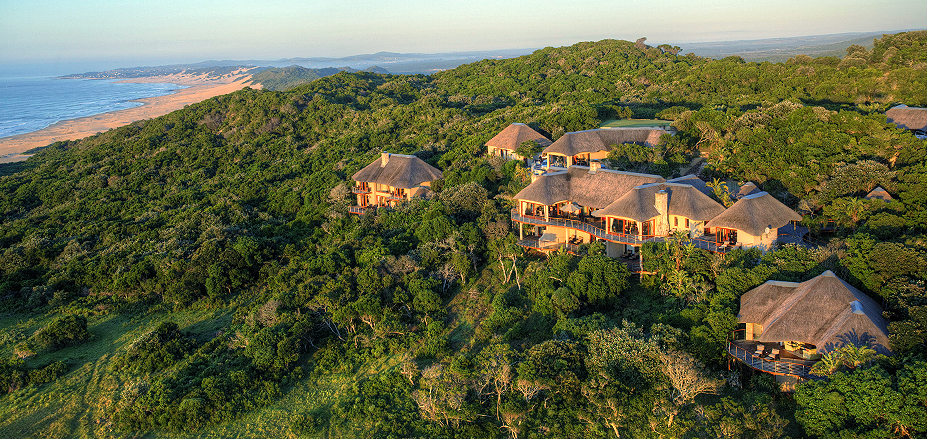 Today depart by road from Shamwari bound for the magnificent coastal Oceana Beach & Wildlife Reserve. Set in a spectacular and unique environment, Oceana offers a luxurious boutique hotel experience in a wildlife reserve overlooking the Indian Ocean. Explore 5 miles of pristine, unspoiled beach at your leisure, or simply lounge or picnic on the superbly located beach deck. Expect only the freshest, most beautifully crafted, and mouth-watering meals. Home to more than 220 bird and 30 mammal species, participate in an afternoon game drive for sightings of giraffes, zebra, and more. Dinner will be served at the main lodge as a 5-course fine dining experience.
Breakfast, Lunch, Dinner | Overnight: Oceana Beach & Wildlife Reserve
Day 12
OCEANA BEACH & WILDLIFE RESERVE PICK YOUR ADVENTURE DAY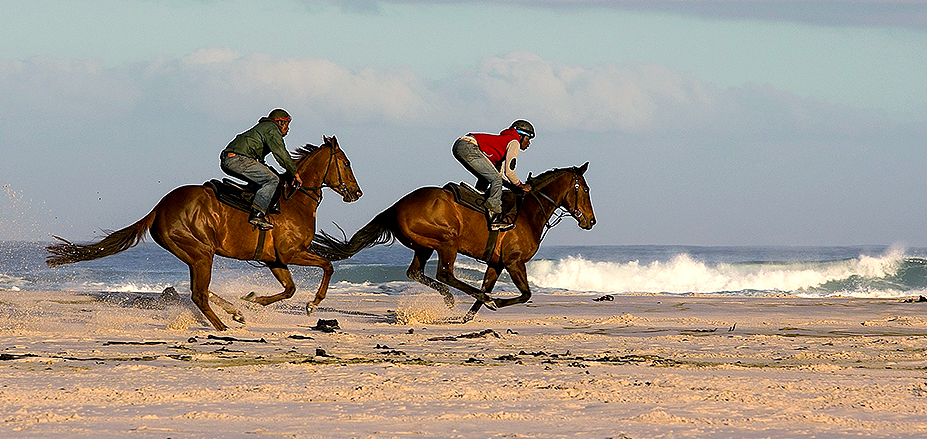 Following a lovely breakfast, take an early morning guided bush walk out on the reserve. Afterward, choose to participate on one of the following activities for the day: a round of golf, horse riding along the beach, or a deep-sea fishing charter. Lunch will be served at your leisure. Before dinner, enjoy a whiskey tasting at the reserve and then gather for another 5-course fine dining experience.
Breakfast, Lunch, Dinner | Overnight: Oceana Beach & Wildlife Reserve
Day 13
OCEANA BEACH & WILDLIFE RESERVE RIVER ADVENTURES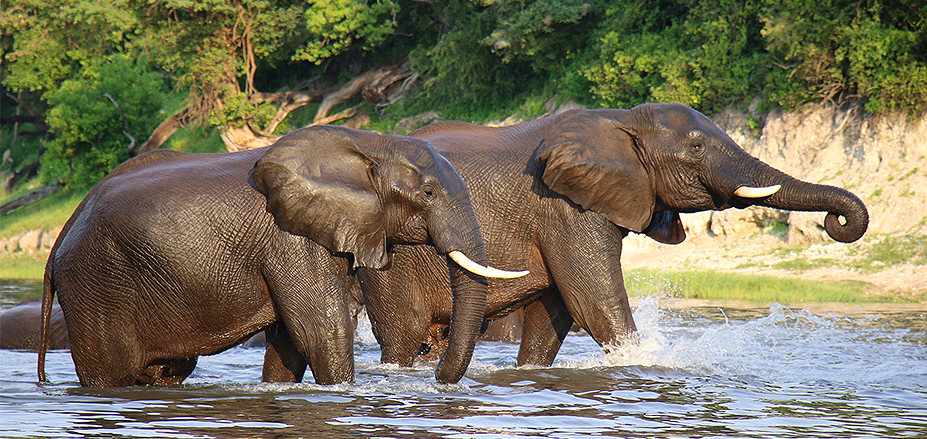 Enjoy breakfast on the beach this morning. Then grab your camera for a big five game drive and then a boat ride along the Kariega River with lunch served en route. This afternoon, relax on a beautiful sunset river cruise along the Kowie River. Dinner will be a gourmet seafood braai up at the main lodge.
Breakfast, Lunch, Dinner | Overnight: Oceana Beach & Wildlife Reserve
Day 14
OCEANA BEACH & WILDLIFE RESERVE – RELAXATION DAY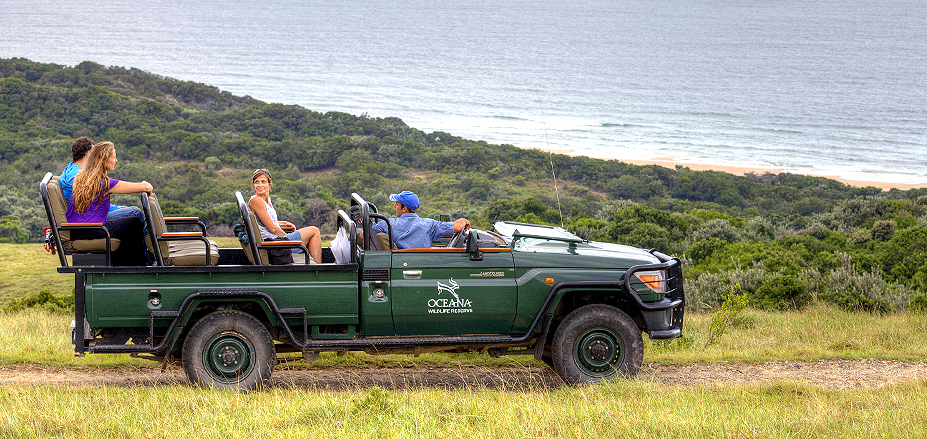 Slow it down today with a full day of freedom to enjoy the luxurious amenities provided by the lodge. Be as active or as still as you like with options of game drives, beach activities, a day at the pool, or spa treatments.
Breakfast, Lunch, Dinner | Overnight: Oceana Beach & Wildlife Reserve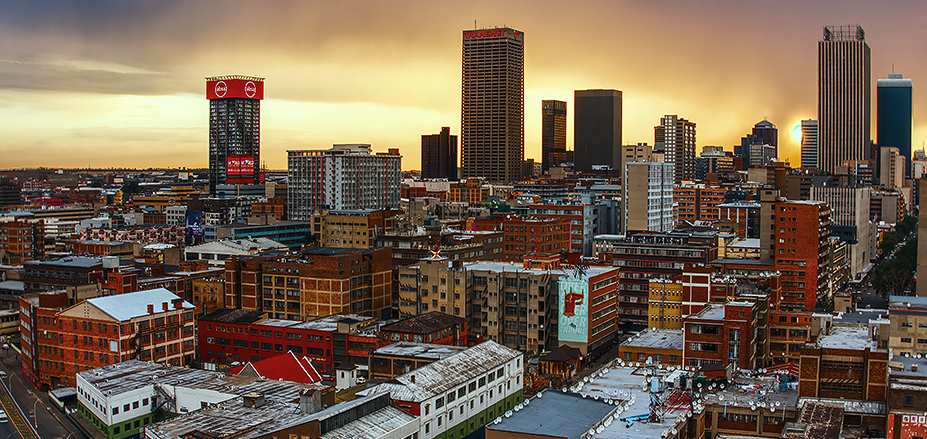 Breakfast will be served at the main lodge before a late morning departure to Port Elizabeth. Here you will board a 1.5-hour group flight to Johannesburg. Upon arrival, check into your hotel, the InterContinental. Dinner will be at your hotel this evening.
Breakfast, Lunch, Dinner | Overnight: InterContinental
Day 16
VICTORIA FALLS & THE ZAMBEZI RIVER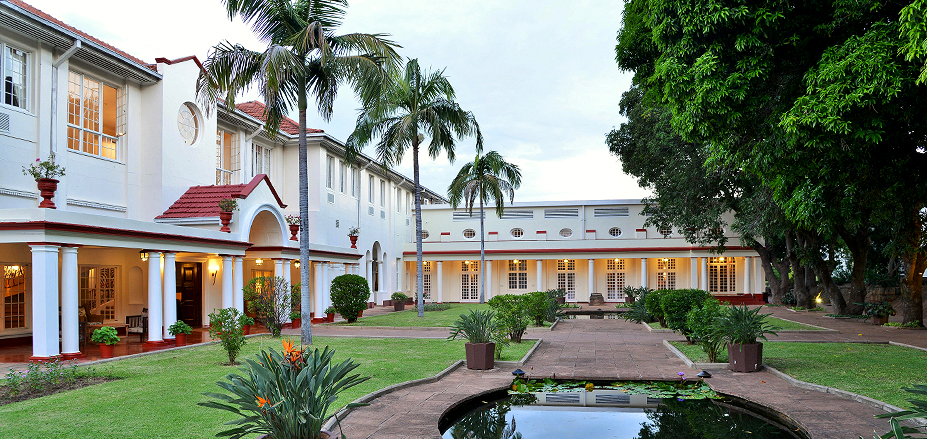 This morning board a 1.5-hour group flight to Victoria Falls. Upon arrival, you will be transferred the short distance to the Victoria Falls Hotel, known as the grand old lady of Victoria Falls, an essay in understated elegance. This afternoon, join the five-star cruise vessel, the Zambezi Grande, for a luxurious sightseeing trip along the Zambezi River. The 'Signature Deck' is the uppermost level and it is pure extravagance with gourmet hors d'oeuvres and premium Beverages served from a private bar. Guests can relax in the comfort of the deep-set couches and enjoy the pleasure of first-class service. Return to your hotel for dinner and a cultural experience at Jungle Junction which offers an unforgettable fusion of African flavors. Entertainment from ethnic groups epitomizes the spirit of Africa while you dine.
Breakfast, Lunch, Dinner | Overnight: Victoria Falls Hotel
Day 17
VICTORIA FALLS & BUSHTRACKS TRAIN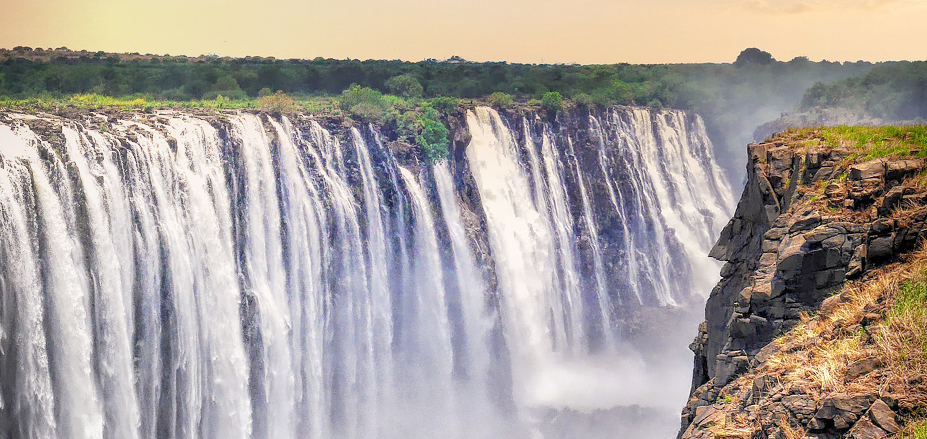 This morning, depart on your walking tour of Victoria Falls – a path along the edge of the forest provides the visitor who is prepared to brave the tremendous spray with an unparalleled series of views of the falls. One special vantage point is across the Knife edge bridge, where visitors can have the finest view of the Eastern Cataract and the Main Falls. Return to your hotel to relax on the terrace and enjoy lunch. Depart in the late afternoon for your Bushtracks Express vintage train dinner. The train will stop on the Victoria Falls bridge for approximately 20 minutes and you will have a chance to disembark from the train to look around. A five-course dinner will be served on the train before heading back to the Victoria Falls Station platform. Return to your hotel for another overnight.
Breakfast, Lunch, Dinner | Overnight: Victoria Falls Hotel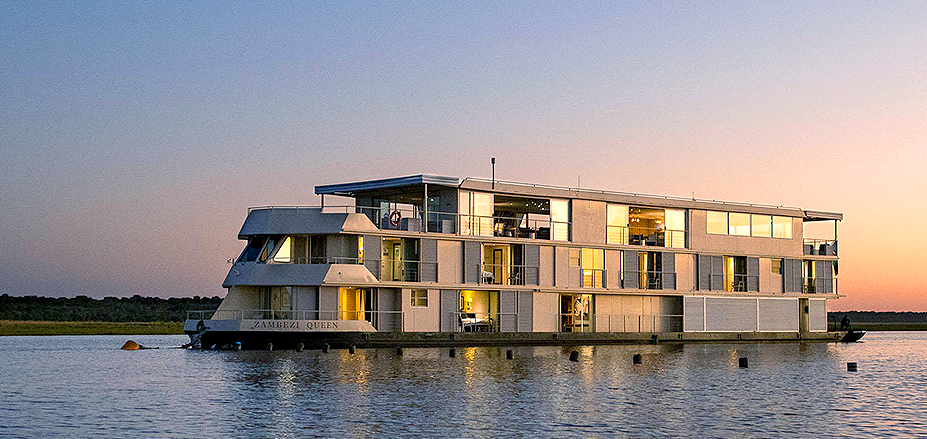 Travel to Botswana and be met by a Zambezi Queen representative at the airport who will help with your luggage and transfer to immigration offices. Board the Zambezi Queen by Mantis, your luxurious and private riverboat that will play host to you for three nights. Enjoy a welcome drink and take in spectacular scenery, before entering the dining room for a delectable three-course dinner along with an excellent choice of paired wines. Retire to the night sounds of Africa in the distance.
Breakfast, Lunch, Dinner | Overnight: Zambezi Queen By Mantis
Day 19
CHOBE RIVER & WATER SAFARI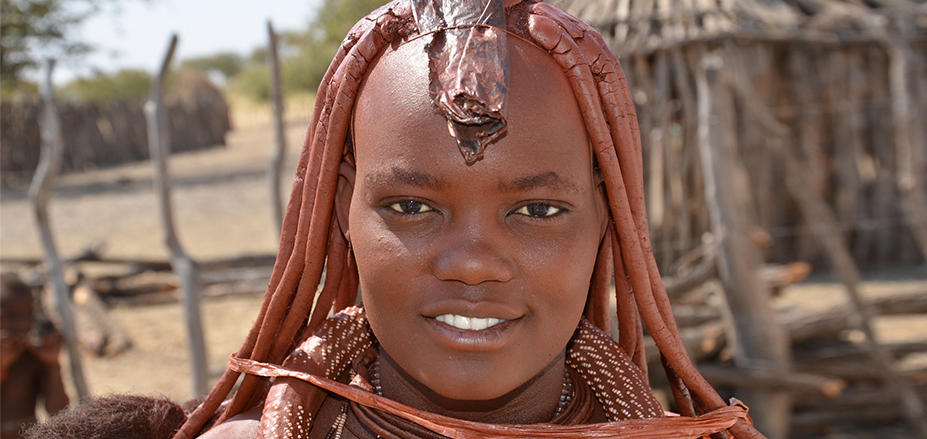 Mornings are free on this cruise for your choice of activity. Perhaps you want to enjoy a water-based safari or a village tour on the Namibian side of the river? Or perhaps you'd prefer a spot of bird watching or fishing instead? You may even decide to simply remain on board as the luxurious Zambezi Queen glides its way along the banks of the Chobe River. After your morning activities, enjoy lunch on board while using your unique vantage point to spot wild animals and drink in the expansive views. Join your ship's guide in the afternoon for a water-based safari on a tender boat where you can get up close to an array of wildlife, including some of the 120,000 elephants for which the Chobe is well known. After a delicious dinner, settle down for a restful night.
Breakfast, Lunch, Dinner | Overnight: Zambezi Queen By Mantis
Day 20
CHOBE RIVER ADVENTURE DAY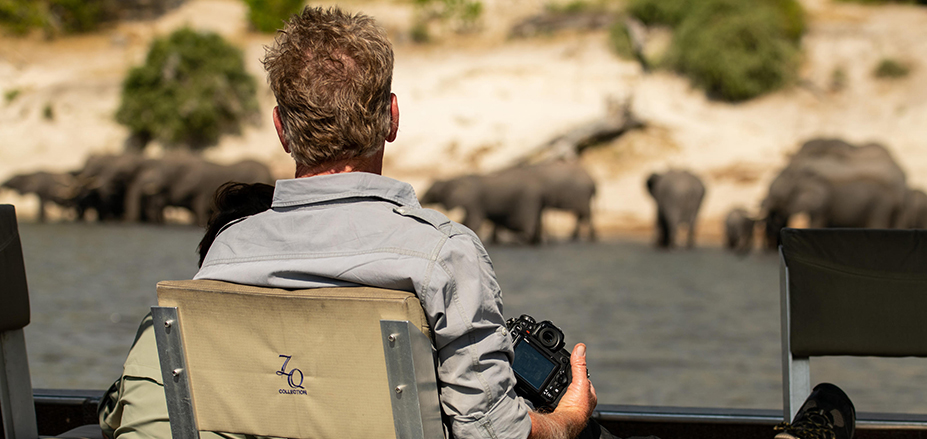 After a hearty breakfast, head off to experience those activities you didn't manage to fit in yesterday: enjoy a water-based river safari by tender boat, go bird watching or go fishing for tiger or bream. In the evening, you're in for a treat. Enjoy a traditional African dinner, served with festive African singing and dancing. You can even join in the festivities if you feel like it!
Breakfast, Lunch, Dinner | Overnight: Zambezi Queen By Mantis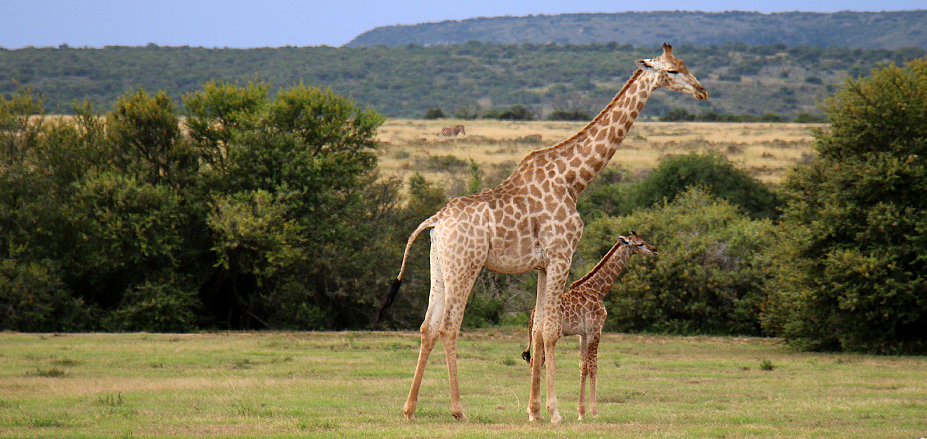 Enjoy a morning cruise during breakfast as you do your last bit of animal spotting. Bid your crew farewell and then board a 2-hour flight from Kasane to Johannesburg. Upon arrival, you will be met and transferred to your hotel, the Fairlawns Boutique Hotel & Spa. Have a wonderful farewell dinner here and then relax for the evening.
Breakfast, Lunch, Dinner | Overnight: Fairlawns Boutique Hotel & Spa
Day 22
JOHANNESBURG – FLY HOME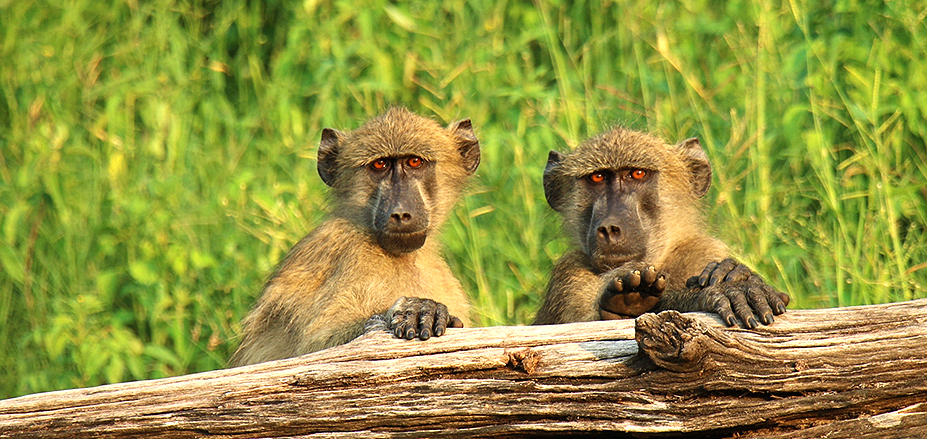 Enjoy breakfast and then transfer to the Johannesburg International Airport to board your flight bound for home.
Breakfast
Departures and Pricing
PER PERSON PRICING INCLUDES
Accommodations; fully-guided service; listed activities, tours, and entrance fees; transportation (within the tour); airport meet and greet; transfers; meals, one adult beverage with dinner, baggage handling, and corresponding gratuities; taxes; fees; and special alumni World Adventure memento.
October 24, 2023
Iconic Southern Africa22-Day Land Tour
October 24 – November 14, 2023
Double Occupancy:
SOLD OUT
Single Occupancy:
SOLD OUT
TOUR SAVINGS
Check Discount – SAVE $300 per person when you pay your tour balance by check or cash versus credit card! $500 per person deposits may still be made by credit card.
HOW TO RESERVE THIS TOUR
A deposit of $2,000.00 USD per person is required within ten days of booking your reservation. Deposits are refundable up until 90 days prior to departure. If canceled, deposits paid by credit card forfeit 4%.
Mastercard, Visa, Discover, American Express, and personal checks are acceptable forms of deposit payment. To confirm your space by credit card, please contact our office: 800.325.2270. Specialists are available for tour bookings 7:30am-5:30pm M-F and 8am-4pm on Saturday.
ARRANGING YOUR FLIGHTS
Home city arrival and departure airfare is not included. This tour begins in Cape Town, South Africa, and ends in Johannesburg, South Africa. We recommend arriving one day early and preparing for two days of travel. Flights may arrive in Cape Town at any time on Day 1 or before. On Day 22, flights may depart Johannesburg at any time. Due to TSA security checks, please arrive at your local airport 3 hours prior to the plane departure time.
Related Tours
THESE EXCEPTIONAL WORLD ADVENTURES MIGHT INTEREST YOU, TOO!